Some before/during the re-make pics-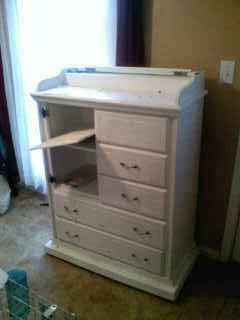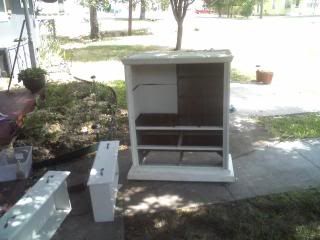 So after all lots of blood, sweat and tears here is the
curbside freebie I posted about
.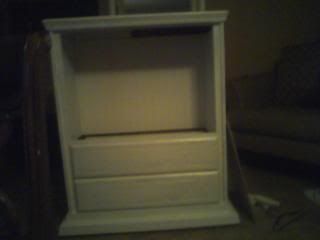 Hubby added beadboard inside the new bookcase area for me tonight. This weekend we will make and install the shelves.Currently it is still in primer white but I did put on a "aged wood" Deco-arts medium over the primer so that once it is finished all the areas of wallpaper I could not remove HOPEFULLY will not show up.
BUT...
The children are still fighting over the paint color. We have bought a beautiful sea glass color paint to go on it and of course someone wants blue, someone wants white and someone wants red with black stripes and flames like a race car! OH BOY!
So white she stays till my oldest comes home from Mission Trip this weekend and they can fight it out.
I am tired. Too many irons came to the fire this week. I have taught
VBS
5 hrs a day, doctors and dentist appointments, tried to catch up on laundry and house work, at least half dozen craft project litter my living room in various states of completion, had company for a week, had impromptu scrapbook day with 2 friends and 8 total children in my house, 20 lbs of plums sit in the fridge waiting to be canned, the dresser
hell
re-make, a Hubby come home with near sun stroke, a child on Mission Trip and a sick child who needs teeth pulled and must finish school in the next 2 weeks!