I posted that last week I picked up my first curbside freebie... and here it is in all
faux
stone glory!
Pics don't do justice to the sandpaper texture of the paint.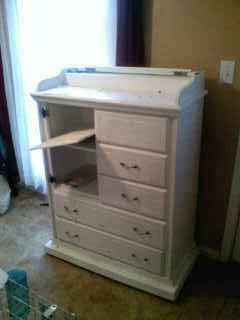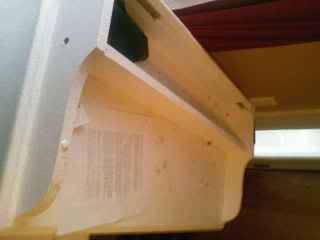 This looks like a wall shelf someone glued onto the top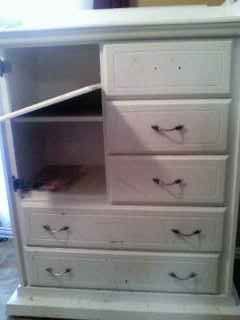 I am thinking about cutting out the upper drawers and making that whole area into book shelves. The dresser is about 5 ft tall and having kids climb to look into drawers doesn't feel too safe. Maybe bead board the back? Still undecided on the color. It will be going into the playroom with buttery yellow walls so I can have some fun with color. Any suggestions?
I picked up a large glass jar at Hobby Lobby a while back. It had a twin until someone knocked it off my dresser. Sorry about no before pics. It measures about 16 inches tall and 9 inches at its widest part.
I was back in Hobby Lobby on Friday searched for things to make a coiled rope basket and found a 400 ft roll of heavy jute rope. So I grabbed it for the basket and remembered the jar sitting pitifully in the floor of my room stuffed with hair bow making supplies and had an idea. About 9pm that night I grabbed my glue gun, jar and rope flipped on some British comedies and settled in. Only 2 episodes later of "Keeping Up Appearances" I was done!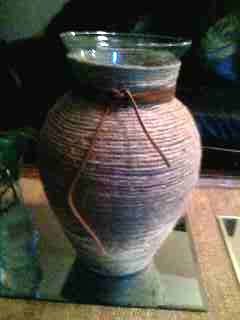 I started wrapping and gluing on the bottom completely covering it
and my fingers
with hot glue and jute.
Today I was looking at my new twine wrapped jug and decided it still needed a little something. In came Hubby's new leather boot laces to the rescue! Sorry Hubs. I wrapped the jug's neck and had Hubby tie a nice knot. Perfect!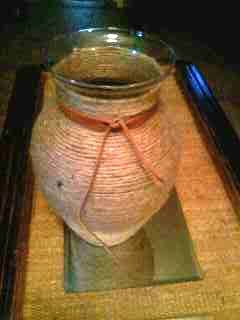 Now what should I put in it?!
Totally forgot to mention project #3!!! I am making "drop cloth curtains" just like
The Lettered Cottage
made. Picked up a 6x9 drop cloth at Lowe's today for around $10, clips rings (2 packs) for $5/pack, and a oil rubbed bronze shower curtain rod (yes you heard that right!) The curtain needs shortened and will go between the main part of the house and the rabbit room to hopefully contain the fur our real dust bunnies enjoy making! Once hemmed (with hem tape cause my machine is possessed) I will have plenty of drop cloth to make
pillows
but more plain like
these on the newly slipped couch of Where the Heart is
maybe painted up like this
ottoman by Mustard Seed Creations
.
The possibilities are ENDLESS!