HALF of a new church worship area my Sparky is wiring up
I so could not do his job. I am terrified of electricity and heights.
Look at that scissor lift fully extended and even at 6'9 Hubby had to reach way up to work.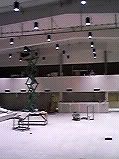 The other HALF! This place it HUGE!!