Wish I had better pics but a camera phone only goes so far.
Hubby and our girls are in Christian Soldiers Karate. This was the belt test in Dec 2009.
Here are my girls on the far right waiting to see if they earn their stripe to belt test. They did not get them that day but did the next week.
Nervous girls and Hubby waiting for the testing to start.
Hubby breaking the board to earn his yellow belt.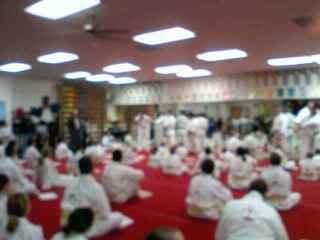 Hubby and a friend doing some sparring during the test.
That day we came home with 2 gold belts and a yellow belt.
My phone died so I didn't get all the pics I wanted.