Hubby, aka my"Sparky", had to go down to Lampasas, TX this weekend to fix the
machinery/wires/circuits.
..electric somethings in a rock quarry for the asphalt plant his company does work for. The quarry boss was afraid with our bitter cold temps of late that the water pipes used to keep the dust down on the rock crusher would freeze so he kept the water running.
This is what Hubby saw when he got there Saturday morning...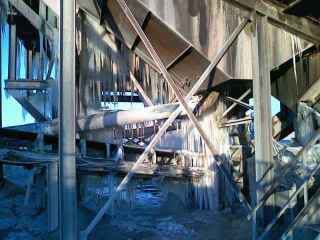 The crew working that morning said these were the "new ones" as they had knocked down icicles TWICE this size earlier. For a size reference this equipment is around 50ft tall at the peak.
This makes me think of a cathedral the way the sun is streaming through the ice
Same view just a little later in the day
Hubby wished he could get up closer and take pics but he didn't want a trip to the hospital that day.